I just found a cool webpage that you all might be interested in. It is part of a college course. The professor has the students look at a painting related to Keats, and then asks a question. Here's one example that I found fascinating.
The professor has you look at the following picture: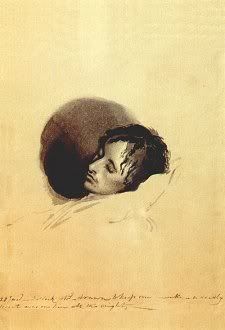 Then the professor asks:
Joseph Severn drew this sketch of Keats as he nursed the poet just hours before Keats died. Severn made the sketch in an attempt to occupy himself while watching over the dying man. Again consider how Severn's art idealizes and immortalizes the poet and remember how Keats' poetry questions art's ability to triumph over time and capture human experience for eternity--ironically in this sketch the writer is immortalized at the very moment of his destruction. Is art victorious or ineffectual in the face of death and decay?
What do you think? Did art triumph in this picture?
The webpage where this and other questions can be found is:
http://www.olemiss.edu/courses/engl309/keatsart.html
P.S. The professor had some misinformation--in that Severn didn't draw the picture just hours before Keats died. . .but about a month before his death.