Dear Keatsian friends- I think you have all noticed now my love of music and that I wanted a piano for years and years...well tonight I got a piano-FREE!! It was on freecycle ( a local online ad forum where people give away items they no longer want). It is old- probably 1940s and beautiful! It needs some work on 5 keys that don't make a note ( but its hammers move)- it sounds lovely and needs a good polish, but it is charming, old and mine!
The man across the hall from me (I live in an 1800s house) very kindly took me up in his van ( he does removals for a living) to collect it. The only thing is, we didn't know how heavy it was going to be so it is sitting in the hall downstairs waiting for me to find 4 strong men to take it up to my studio flat- I am on the second floor. I hope I will find such men!
There is an empty studio flat on the ground floor, which would be of course much easier to get Piano into- it has wheels, but this room isn't as nice as mine and smaller. I'm hoping I won't have to move down there ( that's even if the landlord would let me move down there- the flat has been empty for about 2 months though- the van guy lived there then moved up to a bigger one on my floor). I like being upstairs- the birds and and squirrels come to my window and it's quieter upstairs...oh what should I do...?
I'm of course over the moon and so grateful to have a free piano, especially as I'm unemployed and never thought I would have a piano for years...I don't have much money to pay men to take it upstairs...
I'm trying to have faith that fate brought me the piano and fate will bring me the men to take it up to my flat.
I all of a sudden last night had the idea to look on freecycle- never been on it before...it was odd- I didn't expect pianos to be given away!
I have had a little play on Piano and it is so different to the electronic keyboard- its unreal! The sound is so much better...
Here is a photo of my piano the people sent me: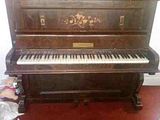 It looks even more beautiful than in its photo when you are stood in front of it. I will take another photo of it when it is in my home, all polished and with portraits of Frederic Chopin and John Keats sitting on top of it!
P.S.
I have just been down to see Piano again and the guy below me, who is older and probably much more sensible than me said that the ceiling might not take the weight and to contact the landlord and ask him and see if it would and if not take the downstairs flat.
I'm warming to the idea of the ground floor studio- it does have a wooden floor and is painted recently, which mine isn't and mine has a thread bare carpet- not good for dust and eczema...). Not a separate kitchen like mine (mine is a walk in) but is has more work surfaces and is up to date and new cupboards etc...I suppose I could get a wicker screen eventually to hide the open kitchen area. When I finally get a job and my finances improve I would move to a bigger ground floor flat.I spoke to a nice guy who is in the piano business ( restores, sells, knows people who move them etc) this morning and he could help me care for Piano and get it fixed and moved to a new place in the future. Heck, I had better learn to play good now!

I think Piano has changed my life!